£740 – the extra amount that the average family spends each Christmas, according to the Bank of England.

…Yet with the rising cost of living, inflation at its highest for 40 years, and prices rising across the board for even the most basic of items, Christmas 2022 has likely been a more expensive festive period than most in recent memory.
For many across the country, they'll be looking to fill the dent in their finances left by the holidays.
And while bank account switches or flogging unwanted Christmas gifts could net you a few extra bob in the bank, there's one avenue that's nearly always more profitable than most…and you probably haven't even thought about it!
Selling Your Old Gold For Cash.
Gold has historically been a safe haven for investors during times of political instability and market uncertainty.
In fact, the price of gold increased by a huge 6% during the first quarter of 2022 in response to the announcement of the Russian invasion of Ukraine.
What's more, Gold has traditionally risen in line with inflation, acting as somewhat of a protective measure for those looking to beat the crunch as inflation climbs.
And with inflation at a 40-year high in the UK, more and more people are turning to gold as a way to battle the political instability.
So what does this mean for you?
Put Simply: It Has Never Been A Better Time To Sell Any Gold You Might Have Lying Around.
What about that gold watch grandad gifted you that's sitting in your drawer after all these years?
Even that broken gold bracelet that hasn't seen the light of day since the new millennium will do!
While the price of your gold may vary depending on the item and the weight of gold within it, demand for gold items – from watches and earrings to gold coins and scrap – has never been higher.
You Could Have Hundreds of Pounds – Even Thousands – Sitting In Your Drawer Right Now.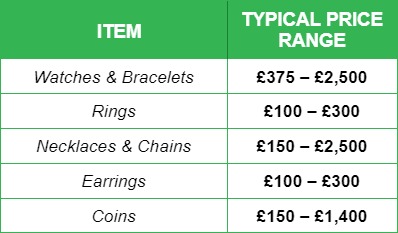 The truth is, it can be difficult to say exactly how much any item of gold will fetch, as there are many factors that come into play (weight of gold, purity, the current price of gold, etc.). And without a professional valuation, it can be difficult to give an accurate estimate of the value of any gold item.
Fortunately, even if your item only has a small amount of gold in it, it can still be worth a good sum from buyers who buy and refine large quantities of gold, and who can often pay the highest prices. The typical ranges you often see for common gold items can include:
So If You've Got A Bit Of Old Gold Laying Around,
What's The Best Way To Sell It?
You have a couple of options:
1. Your Local Pawnbroker or Jewellery shop
Walking the high street, you might have come across shops with gold, silver, and other pieces of jewellery adorning the display window.
When most people think about selling their gold for a bit of cash, this is the first place they think of.
The benefit of such shops is convenience – often, you can drop in with your gold, have it bought on the spot, and receive cash in hand the very same day.
The drawback to Pawnbrokers and jewellery shops is that you'll very rarely get the best price for selling your gold.
Typically, this is simply down to the higher operating costs of such shops that leave them very little room for negotiation or margin.
In some cases, you may even receive between 10% and 15% less than the best price for your gold when selling to a pawnbroker or jewellery shop, compared to other methods.
Especially if you have a valuable item of gold on your hands, this small discrepancy can mean leaving hundreds of pounds – if not thousands – on the table.
2. Online Gold Buyers
Another method for selling your old gold is through an online gold buyer.
The advantage of Online Gold Buyers is that you'll typically get the best price for your gold compared to other methods, due to the lower operating costs of such businesses, and the higher volume of gold that they buy and refine.
And while payment isn't as instant as with Pawnbrokers, you can usually expect to receive your cash within 24-48 hours from most Online Gold Buyers.
The way an Online Gold Buyer works is similar to a local Jewellers or Pawnbrokers, except the valuation process is carried out at their premises.
Typically, this will involve sending your gold as a secure package to the business. Then, an expert will make a valuation on your gold, and make you an offer.
If you're happy with the offer, they will then send you the money in return for the gold. If not, they will return the gold directly to you.
In many cases, Online Gold Buyers will use the Royal Mail Special Delivery service for sending and returning any gold. This means that any package you send or receive is trackable, fully insured, and guaranteed to arrive by 1pm the following day.
This often gives many sellers the peace of mind in knowing that their valuables are safe and sound, and the turnaround is fast.

While Many Such Online Gold Buyers exist, One Of The Most Popular Is The London-Based, Cash4Gold-Now.
The advantage of a service like Cash4Gold-Now is the Price Match Guarantee they offer, meaning that if you receive a better quote elsewhere, they guarantee to match it – or even beat it.
In addition, unlike many Gold Buyers, Cash4Gold-Now don't use an online Gold Calculator to value your gold, meaning that you won't be quoted misleading prices that you will never realistically receive for your gold.
This helps to ensure that you're getting the best possible price without needing to spend days shopping around at different Gold Buyers.
Where many Online Gold Buyers may be limited to accepting only certain types of gold, Cash4Gold-Now has the added advantage of accepting all forms of gold including coins, jewellery, gold bullion, scrap, and even dental gold. They also accept Platinum, Palladium and will even pay extra for Diamonds in jewellery as long as they are of a substantial size and quality.
Here's what previous customers had to say about selling their gold via Cash4Gold-Now: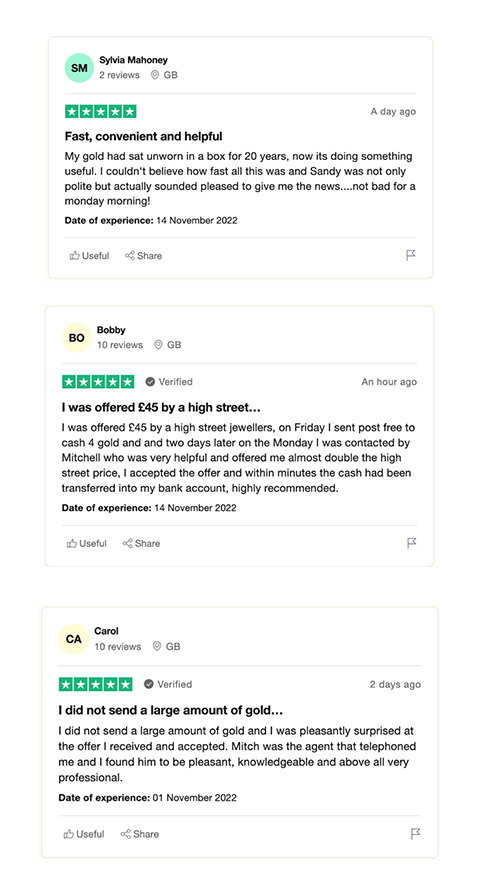 Their No-Obligation Service Involves Just 3 Simple Steps:
1. Request Your Free Sellers Pack
Simply fill out the request form on Cash4Gold-Now's website, and you'll receive your free Gold Selling Pack in the post within 24 hours.
2. Post Your Gold Jewellery
Your Gold Selling Pack will come with pre-paid Postage for Royal Mail's Special Delivery service, meaning that your parcel is secure and insured no matter what happens.
3. Receive a No-Obligation Offer Within 24 Hours
The same day that your gold arrives with Cash4Gold-Now, you will receive a no-obligation offer from one of their experts.
If you are happy with the offer, the money will be transferred directly to your bank within one hour of accepting the offer. Payment via Cheque or hard cash can be requested as well.
However, if you are not satisfied with the offer, your gold will be sent back to you free of charge.
With over 5,000 5-star reviews verified by Trustpilot, Cash4Gold-Now is one of the leading Online Gold Buyers and a popular choice for those looking to sell their gold for cash.
Now, over to you!
Please note: The link above will take you to Cash4Gold-Now's website, where you will be able to order a free Seller's Pack to receive a valuation on your gold item(s). Cash4Gold-Now is a trading name of James Brooke Services Ltd, Company number 08864813.