Does A Miracle Slimming Pill Exist?
It's a very confusing world out there when it comes to Slimming Supplements.
With over £50m spent each year just on diets pills and about two thirds of the UK on some form of diet, we thought it's time to review five of the most popular weight loss supplements in the UK.
For all the claims made by slimming supplements in the market, these
products aim to help you lose weight by doing one of three things
Reduce appetite – Helping you to eat less
Reduce absorption of nutrients like fat – Helping you take in fewer calories
Increase fat burning – Helping you to burn more calories
Here's a look at five bestselling weight loss supplements and our review on each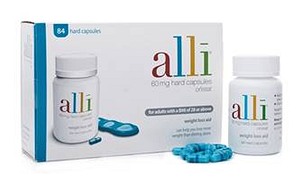 Alli is a clinically proven weight loss aid using Orlistat, a pharmaceutical drug, now
sold over-the-counter for the first time. Bad news though, it's not a pill with magical properties,
you still have to eat a balanced healthy, lower calorie diet alongside taking the tablets.
How it works:
Alli works in a unique way and claims to stop about 40% of the fat in your diet from being absorbed into the gut. The active ingredient, Orlistat, attaches to the enzyme lipase that breaks
down the fat in a meal, effectively preventing it from digesting fat. Sounds great!
Effectiveness:
Take note people, according to a big review of 11 studies, Olistat can increaseweight loss by up 6 pounds (2.7kg). Visceral fat was reduced in over 70% of Alli users who followed a reduced calorie, lower-fat diet.
Side Effects:
Not a great list of side effect and quite a few! Including loose, oily stools, flatulence,
frequent bowel movements, uncontrolled bowel movements (shall I go on? I think I'll stop…)
Bottom line:
On the face of it, a great fat-buster and with some discipline around diet it certainly
can work. But that list of side effects is distracting me and some of them are horrible! I have friendsto keep From a nutritional stance it is also worth noting that we need a healthy balance of fats
as part of a healthy diet so blocking them from the system can have a negative impact.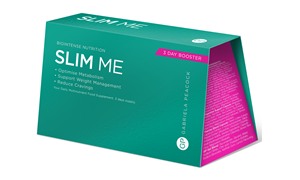 By Gabriela Peacock Nutrition
Model turned nutritionist Gabriela Peacock works at the prestigious Grace Belgravia clinic in London's Mayfair where she was poached by the Queen's GP Dr Tim Evans in 2013. Her work involves bespoke nutritional packages for the UK's fashion and celebrity elite – Slim Me has been developed directly from her client discussions and I guess the results speak for themselves.
How it works:
Slim Me combines capsules rich in green tea extract and chlorogenic acid with glucomannan fibregel sachets. You take the glucomannan gels 20 minutes before each meal (3 times a day) and the capsuleseach morning (to regulate blood sugar and optimise your metabolism). The glucomannan absorbs thewater and becomes gel-like in your tummy to promote a feeling of fullness and help you eat less. Voila!
Effectiveness:
Three human studies have found that glucomannan combined with a healthy diet canhelp people lose 8-10 pounds (3.6-4.5kg) of weight in 5 weeks. Several studies have also found that green coffee bean extract can help people lose weight. Very impressive if true.
Side Effects:
Can cause some bloating, some flatulence and soft stools.
Bottom line:
Impressive that this product combines two systems – the capsule route and the fibre gels. I hear that Glucomannan also has other benefits (feeds friendly bacteria in the gut and balances blood sugar levels).
So a big thumbs up!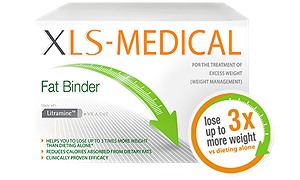 Another fat binding focussed product, and endorsed by the Obesity Society, XLS uses a natural fibre called Litramine, which is derived from an organic plant source. The manufacturers here claim that it can bind to fat, preventing absorption and causing it to be excreted from the body. It also contains a vitamin mix of vitamins A, D & E to "help you reinforce your body" (unsure exactly what this means)…
How it works:
Litramine compound binds to fat in your body to form a complex too large to be absorped. Itthen leaves the body naturally.
Effectiveness: According to clinical studies it is claimed that Litramine can reduce dietary fat absorption by up to 27%. In an online study in 2010, 123 people that took Litramine for 12 weeks, lost an average of 5 pounds.
Side Effects:
Loose stools, diarrhoea, constipation, bloating. I guess all associated with fats passing through the system.
Bottom line:
Tempting to try the product. But a small study of 123 people in 2010 isn't really a compelling set of numbers. It's also dangerous to not be able to absorb fats. Fats are an essential part of a healthy diet, indeed several substances(hormones for example) are made from dietary fats. So you have been warned…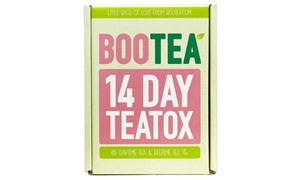 Big advocates of sensible eating and having a balanced diet, the Bootea team claim that their product is not a miracleand a flexible eating plan is needed. Credit where credit is due though, they boast over 1 million customers worldwide, so their teas, shakes, foods and snacks are certainly working up an appetite!
How it works:
28 Days supply of loose leaf tea in tea bags for each morning and another tea bag for every other night. The goal of the Bootea teatox is to help you get back on track with a healthy and active lifestyle.  They use the word to 'teatoxes' to describe the way the body goes through a 'natural process of elimination, by removing unwanted 'toxins' & built up waste matter, from your body via the lungs, kidneys, bowels and skin'.
Effectiveness:
It's difficult to find any clinical research to back up the results claimed by Bootea, but certainly there is a host ofpositive reviews on their website. However there has also been some negative press on the laxative effects of the Sennaused in the night time tea.
Side Effects:
Loose stools, diarrhoea, (chronic) constipation, bloating. Beware people.
Bottom line:
A few online negative reviews have troubled me about BooTea. I hear that the Senna used in the productcan be addictive and has a host of other side effects when people go cold turkey. Just feels like a laxative in a tea bag – or is it just me?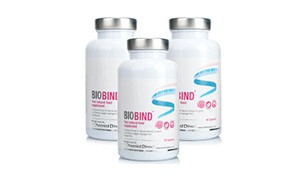 By Gabriela Peacock Nutrition
A triple action natural product, with three key ingredients: Chitosan, nopal cactus and pysyllium husk. All ingredients are 100% natural and the products work in conjunction with a healthy, balanced diet.
How it works:
Chitosan is a naturally occurring fibre sourced from the shells of shellfish.  There is some evidence that chitosan is an effective fat binder, reducing the absorption of fats in your diet. Nopal cactus contains soluble and insoluble dietary fibres which absorb both water and toxins, which the manufacturer claims can contribute to regular bowel movements.  The manufacturer also claims that nopal helps prevent the absorption of simple carbohydrates. However, there are currently no studies to support this.  Psyllium husk is extracted from plantain seed and the manufacturer claims that this can improve digestion and cleanse the system and can promote a feeling of fullness by drawing in water to the digestive tract.
Effectiveness:
There's plenty of anecdotal evidence supporting the manufacturers claims, and this in itself is impressive. The Pysyllium husk Is similar in some ways to Glucomannan (seen in the Slim Me product above), but contains less fibre.
Side Effects:
No major side effects – so good news! Albeit the Chitosan is extracted from Shellfish, so not suitable for vegans or vegetarians, or those with a seafood allergy.
Bottom line:
A decent product, with a nice triple set of active ingredients. No clinical trials slightly hamper the overall review, but certainly one to watch.