Medical Clinic Create Hair Tattoos For Bald Men

A hair tattoo might sound strange, but can provide amazing looking results for hair loss sufferers. MSP Micro Scalp Pigmentation is a new technique which is quickly becoming the most popular hair loss treatment for men across the globe.
A great example of how Micro Scalp Pigmentation treatment with Vinci Hair Clinic can help disguise the appearance of a bald scalp.
A Scalp Tattoo That Can Restore Your Hairline
Let's be honest – your first reaction to the getting scalp hair tattoo is probably that it is a mad idea and couldn't possibly look natural. But MSP micro scalp pigmentation is not just your average tattoo from a local tattoo parlour. To find out more, we visited Vinci Hair Clinic at their London head-quarters to meet with Karina Santos.
Vinci Hair Clinic is widely acknowledged as the market leader for medical hair loss tattoos, and Karina is their head MSP technician. Karina is personally responsible for restoring over 2000 hairlines around the world, and has trained 18 other Vinci Hair Clinic technicians in the art of MSP.
We asked Karina to tell us why Vinci Hair Clinic developed the MSP hair loss treatment. "I have worked in the hair restoration industry for many years and was always disappointed when I met with a client who I couldn't help. Some were not suitable for hair transplants, while others were not keen on surgery. At Vinci, we wanted to do something for these hair loss sufferers, so we developed our pioneering medical scalp tattoos."
Vinci Hair Clinic leading the way of MSP hair loss treatment, Find Out What Treatment Is Best For You.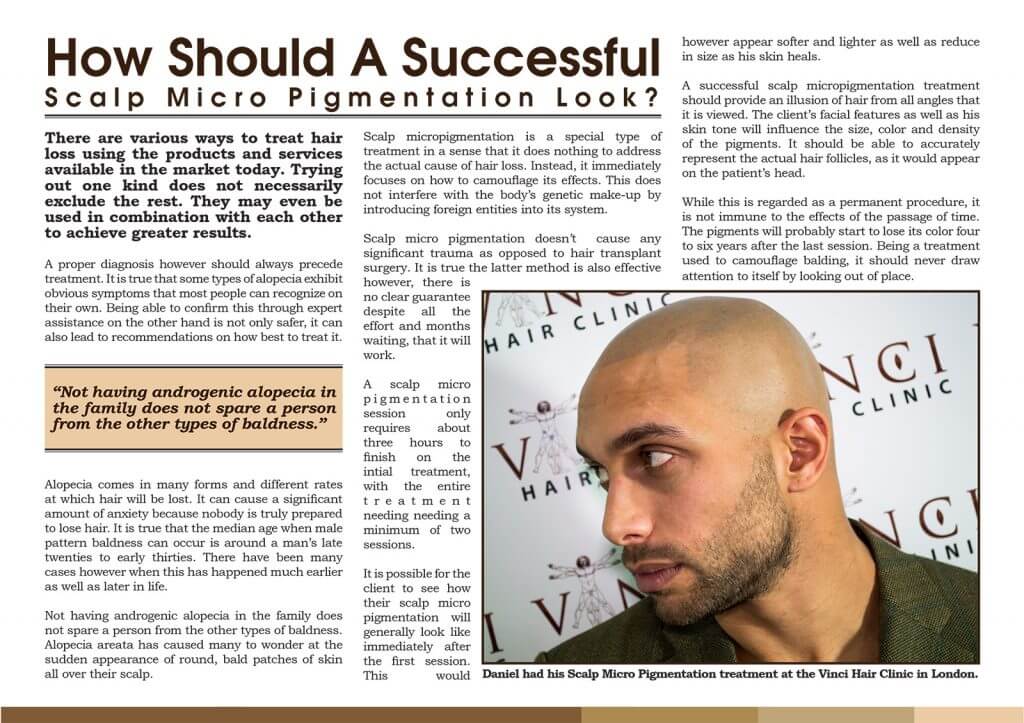 What Is Different About MSP?
Karina went on to explain to that the difference between medical scalp tattoos and ordinary cosmetic tattoos is significant. Vinci Hair Clinic technicians use specialist pigments to draw tiny hairs onto the scalp to create the illusion of short, shaved hair growth. A special level of skill and artistry is essential, and Vinci tailor every client's hairline to suit their individual features for a fully natural and undetectable look.
"MSP is a non-invasive technique which allows us to help clients who have a receding hairline, patches from alopecia or male pattern balding, or scarring on the scalp," Karina explained. "MSP treatments take place in our comfortable, specially designed clinics, with each session lasting between two and five hours depending on the client's hair loss condition. Generally, two to three sessions are required, as this allows us to subtly build up a look of texture and density. The treatment itself is painless, with clients describing the sensation as a mild tingling, and has a short recovery period. "
Karina told us that one of the many benefits of MSP is its affordability when compared to other hair restoration treatments. MSP costs from around £2000 to £3000, while hair transplant surgery comes in at around £7000.
Vinci Hair Clinic have nearly 40 clinics worldwide (16 alone in the UK).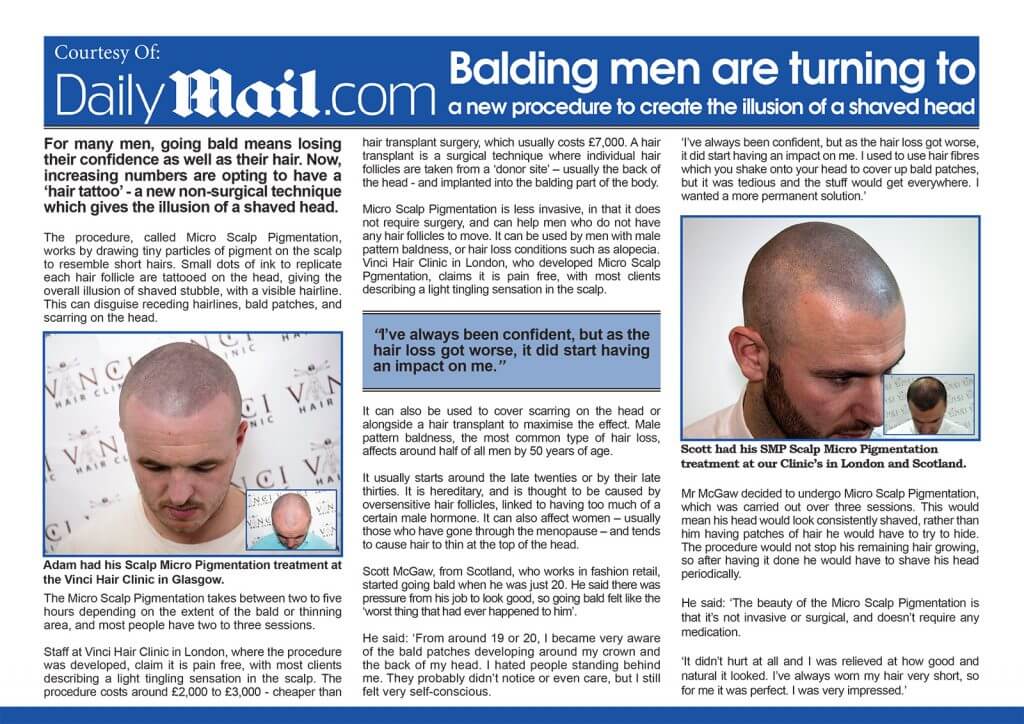 We also heard from Vinci Hair Clinic client Scott McGaw, who told us about his hair loss experience, why he chose Vinci MSP and how he felt about the results.
Scott first became aware that he was developing bald patches around the back and crown of his head from around the age of 19. Working in fashion retail, he was very conscious of his appearance and began to feel uncomfortable when people stood behind him, worried that they would notice the bald patches.

Scott before and after his Micro Scalp Pigmentation treatment with Vinci Hair Clinic
Scott told us that his hair loss dealt a big blow to his confidence and as a result, he started looking for ways to hide it. One approach to disguising the bald patches was hair fibres, which are shaken onto the head to cover up areas of baldness – but Scott found them to be messy, time-consuming and ineffective.
Scott, who lives in Scotland, started to seek out a more permanent solution to his hair loss and decided to go ahead with Vinci Hair Clinic micro scalp pigmentation. Scott's MSP treatment took place over three sessions and covered the areas of baldness to create a consistent look of short, shaved hair. Scott told us that he was thrilled with the perfectly natural results, which would allow him to wear a shaved hair style without having to try to hide the bald patches. He was very impressed with all aspects of the MSP treatment, especially that fact that it is non-invasive and non-surgical, and doesn't require medication. He explained that as MSP does not stop hair growth, it is ideal for men like him who like to wear a short, shaved hairstyle. "Maintaining my look is so simple" he said, "All I need to do is regularly shave my head."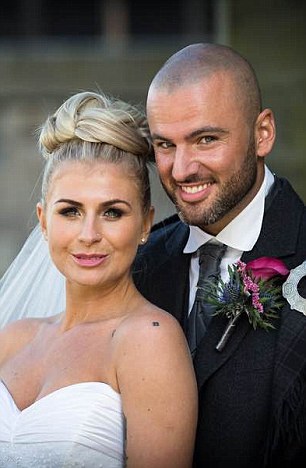 Vinci Hair Clinic offers free consultations for MSP at their clinics throughout the UK, USA and around the world. You can find out more by getting in contact with Vinci Hair Clinic on 020 300 494 84, or visit their website for more information.
Find out how easy and affordable MSP is for you,