4 signs that it's time to upgrade your communication solutions

It's a new year, so what better way to start things off with a bang, than to make sure your business has everything it needs to create success and achieve goals in 2021!
Having the right communication solutions in place could not only bring a multitude of benefits to your business, including increased productivity, better employee retention and improved continuity, but you'll also experience more opportunities to connect!
Not sure if your business needs to upgrade? Check out our 4 key signs below, for why it might be the right time to makes some changes and discover how those changes will most certainly boost your bottom line!
Your phone system isn't suitable for flexible or remote working
With more and more businesses adopting remote and flexible working policies, it's so important to make sure your staff are able to easily communicate with one another, from wherever they're working. With most traditional business phone systems, portability can be an issue and more often than not, they have to remain wherever they've been installed. However, with a cloud or VoIP phone system, this isn't a problem, due to the fact that they're 'housed' on the internet and therefore, don't require additional hardware or cabling! What's more, you don't even need an actual handset to make and take calls, thanks to the in-built softphone feature, which is accessible via your browser. All you need is a reliable Wi-Fi connection, and you're able to access your cloud or VoIP phone system from wherever you're working, for ultimate flexibility! Plus, you'll enjoy a range of futureproof features, such as an online admin portal, that allows you to easily manage your system, as well as the ability to flip live calls between devices. Staying in touch has never been so easy!
Productivity is dwindling
No matter where your staff are working from, it's important to make sure they have the right tools to do their jobs efficiently and effectively and stay connected. For example, without the appropriate communication solutions, you may find that your remote and flexible workers are demotivated and struggling to keep up with their workload, as a result of increased isolation. Not to worry though, with a reliable and easy to use video conferencing platform, communication is always possible, anytime and from anywhere! When you're deciding on the right video calling platform for your business, make sure you choose one with a range of capabilities, to ensure you get the most out of every meeting. For instance, screen sharing, note taking, instant messaging, and the ability to record your meetings are all great features, to guarantee immersive, productive and enjoyable video calls!
Calls, and potential sales, are being missed
With UK businesses losing in excess of £30 billion each year, due to missed calls, it really is so important to make sure your staff have the means to make and take calls from wherever they're working, be it from the office, at home, or on the road! With the ability to work from anywhere with a Wi-Fi connection, plug and play handsets are a great option for staff working across multiple sites, or from home. All you need to do is plug it in, and you're ready to go! With full functionality, no matter where you're using them from, plug and play devices are ideal for those who prefer an actual handset, but also want a portable option that they can take anywhere! Another fantastic solution for maximum flexibility, would be to integrate your desk phone with your business mobile. As a result, you're guaranteed to receive all of your calls, from wherever you are, even when you're between locations! What's more, should you need to switch from your desk phone to your mobile during a conversation, mobile integration allows you to do this with no disruption to the call!
Your phone system isn't properly protected
Unfortunately, unforeseen and disruptive events happen, and when they do, they can have a serious effect on your business, if you're not prepared to deal with them. Whether it's a fire, flooding, a power cut, or potential cyber-attacks, should any of these occur, the impact could have lasting consequences. With the majority of traditional business phone systems, disaster recovery protocols aren't in place, therefore leaving you vulnerable and unprotected. However, with a cloud or VoIP phone system, you can be sure, that should you experience disruption, your servers, email exchange, virtual platforms and various devices, will be protected. What's more, as your data is in the hands of specialists, it's much more secure than it would be backed up on your own servers, and is therefore safe from memory loss, and hacking attempts !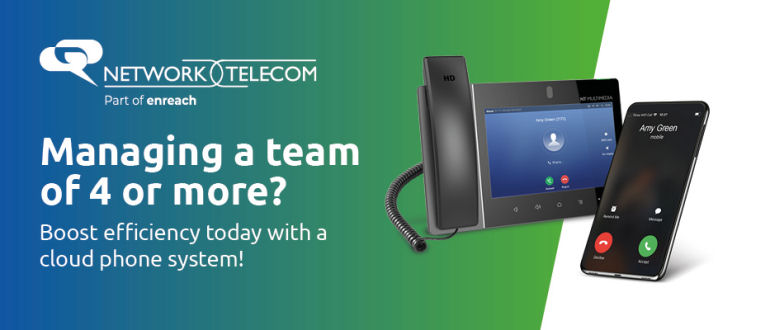 Transform your business and create even more success in 2021, with Network Telecom's exclusive New Year offer. For a limited time only, all new customers will get three months FREE on new phone systems, including cloud and VoIP phone systems, PLUS £100 vouchers of your choice!